How to Filter email by Sender
Filtering by Sender
The filtering system has Friends (whitelist) and Enemies (blacklist) options to filter by email address, domain name, or IP address.
| | | |
| --- | --- | --- |
| | • | Friends: Mail from these addresses and domains will not be filtered for spam. |
| | | |
| --- | --- | --- |
| | • | Enemies: Mail from these addresses and domains will be quarantined. |
Whitelist and blacklist entries are not required to ensure that you do not receive spam. If there is a conflict between your whitelist entry and an identical blacklist entry for the entire domain set by your email administrator, the whitelist setting takes precedence.
We do not recommend using whitelists and blacklists to manage email accounts because spammers have adopted techniques to send email from addresses within your own domain (including your own email address). Whitelists, in this case, would override the spam filter rule and result in the spam and viruses being delivered to you even though the system had identified them as spam. Similar unintended consequences can result from the use of blacklists.
To add to the Friends list (whitelist): Login at http://spam.ntinet.com
| | | |
| --- | --- | --- |
| | 1. | Click the Policies tab. |
| | | |
| --- | --- | --- |
| | 2. | In the text box in the Friends area, enter the email address, domain name, or IP address to add to the Friends list. |
| | | |
| --- | --- | --- |
| | 3. | Click + (the plus sign) button to add it to the Friends list. |
To add to the Enemies list (blacklist):
| | | |
| --- | --- | --- |
| | 1. | Click the Policies tab. |
| | | |
| --- | --- | --- |
| | 2. | In the text box in the Enemies area, enter the email address, domain name, or IP address to add to the Enemies list. |
| | | |
| --- | --- | --- |
| | 3. | Click + (the plus sign) button to add it to the Enemies list. |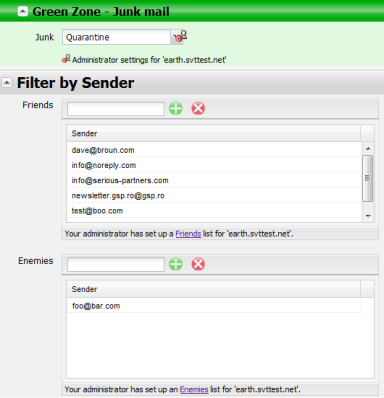 To remove an entry from the Friends list (whitelist):
| | | |
| --- | --- | --- |
| | 1. | Click the Policies tab. |
| | | |
| --- | --- | --- |
| | 2. | In the Friends area, select the email address, domain name, or IP address to remove from the Friends list. |
| | | |
| --- | --- | --- |
| | 3. | Click - (the minus sign) button to add it to the Friends list. |
To remove an entry from the Enemies list (blacklist):
| | | |
| --- | --- | --- |
| | 1. | Click the Policies tab. |
| | | |
| --- | --- | --- |
| | 2. | In the Friends area, select the email address, domain name, or IP address to remove from the Enemies list. |
| | | |
| --- | --- | --- |
| | 3. | Click - (the minus sign) button to add it to the Enemies list. |